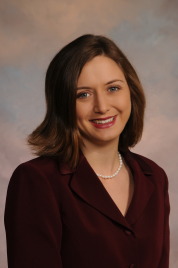 Kim Eggers is a life-long resident of Boone, and is a tireless advocate for her clients. After graduating summa cum laude from Appalachian State University in two years, she graduated from the Norman Adrian Wiggins School of Law at Campbell University in 2001. She began her career as a staff attorney with Legal Services of the Blue Ridge (now Legal Aid of North Carolina), and was appointed to serve as a Magistrate Judge for Watauga County in 2003. In 2009 she resigned her position as a Magistrate Judge to return to private practice, with a goal of being able to help people in a more direct manner.
Kim's practice areas include Social Security Disability representation, appellate cases, and family/juvenile law.
Since her return to private practice, Kim has handled a number of appellate matters, including representation of the Watauga County Department of Social Services related to abuse, neglect, and termination of parental rights.
She holds a Distinguished rating through the Martindale-Hubbell peer rating system. Click here to view Mrs. Eggers'  Martindale-Hubbell review.
Kim is married to her high-school sweet-heart and law partner, Stacy 'Four' Eggers, IV. They have three sons and are members of Boone United Methodist Church.