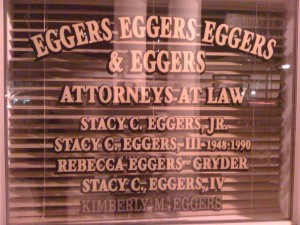 On June 1, 1950, Stacy Eggers, Jr. was sworn-in to practice law and opened a law office in his hometown of Boone, North Carolina.  At the time he started practicing law, he was one of only four lawyers practicing in Boone. An accomplished trial attorney and insightful lawyer, Stacy Eggers, Jr. soon made a name for himself as a fixture of the Watauga County legal community.  In 1974, Stacy Eggers, III joined his father in the practice of law until his untimely passing in 1990. His sister, Rebecca Eggers-Gryder, joined the family business in 1986 and practiced with the firm until she was appointed (and subsequently re-elected) as a District Court Judge in 2015.
Stacy 'Four' Eggers, IV and his wife Kimberly McGuire Eggers have practiced law since 2001 and are proud to continue the family legal of providing legal services to the High Country.  They are joined by Jonathan Green, Chris Barnes, and Josh Coffey in building upon the foundation of quality, client-focused legal work.
Through a culture of dedication to the law, hard work, and focus on our clients, we work to make a difference in the lives of our clients.  We are especially grateful for the kind words of recognition made by our Congresswoman, Virginia Foxx, from the floor of the United States House of Representatives:  https://www.youtube.com/watch?v=aUaQnpaNgGo
We are truly honored and humbled by the success which this community has made possible.  Our effort to always place the interests of our clients as our top priority has lead multiple generations to entrust us with their legal matters, and for that we are very grateful.  Whether your family has used our services before or you are new to the area and looking for an attorney to assist you with legal representation, we are always happy to be able to make a difference in the lives of our clients.
Representative Clients
Our office considers maintaining the confidentiality of our clients of utmost importance. As such, we strive to always protect the information and identity of our clients. Our public clients include the County of Watauga, the Town of Beech Mountain, the Town of Banner Elk, the Watauga County Tourism Development Authority, the Appalachian District Health Department, Blue Ridge Professional Property Management, Inc., Boone High Country Realty, and many other businesses and individuals.
We are always honored and humbled that many of our referrals come from word of mouth and representing families across several generations.

Areas of Practice
Our firms has the skill and experience to handle most transactions in the Boone and High Country area, whether it is a will, real estate transaction, traffic ticket, divorce, business law, or complex litigation.  We are committed to providing our clients with the best legal counsel and representation available.  Our practice areas include Civil Litigation, Land Condemnations, Personal Injury, Workers Compensation, Domestic and Family Law, Criminal and Traffic Matters, Construction Disputes, Social Security Disability, Wrongful Death, Business Incorporation and Representation, Wills, Estates, and Trusts, Real Estate Transactions, and Estate Planning.